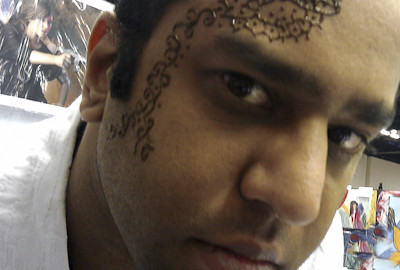 Master So'N'So
A life-long non-monogamist, and full-time fantasy art photographer, Master So'N'So travels frequently for his day job, teaching a variety of art subjects at conventions and art fairs. He has been involved in managing non-profit organizations since he was a small child, has studied rope bondage since 2006 and has been actively involved in the Chicago community since 2008, working with The Next Generation Chicago, the Man Ho Foundation and heavily engaged in general community building. He currently organizes Bound To Learn, an open space rope meetup/self-education event which occurs monthly on a floating Friday. His sex-positive courses have been well received internationally, including locations in Canada, Florida, Texas and the Midwest.
Classes
Arm Ties
Presenting five ways to get your partner's arms out of the way. A hands-on, introductory to intermediate class.
The Solo Polyamorist
Too obsessed with your job to make time for a Real Partner(tm)? Do you want to be focused on your own needs yet still have love in your life? If so, this lecture on the joys and pitfalls of being your own primary partner may strike a chord. All levels are welcome.
Kama Sutra Kink
Widely known in America as the Hindu Sex Manual, the Kama Sutra covers far more than weird sex positions. Learn pick up lines invented thousands of years ago, examine the ancient debate over the existence of the female orgasm, and discuss historic protocols of devotion and submission suitable for modern relationships.